Producing a design that embodies everything you envisioned for your bathroom, our efficient team go above and beyond to accommodate all your requests. Whether you are wanting something traditional or something that is super modern and stylish, nothing is too much trouble for our capable team. For additional information about our bathroom designs and installation services, please contact our friendly team at our company in Harrow.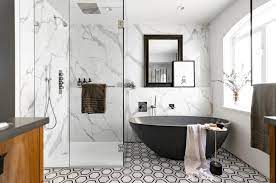 CONTACT OUR PROFICIENT TEAM IN LONDON FOR FURTHER INFORMATION ABOUT OUR BATHROOM DESIGNS AND INSTALLATIONS.
DESIGNING YOUR DREAM BATHROOM
From rustic designs to modern and sleek glass and metal finishes for a bespoke wet room, our team at FREEBUILDERQUOTE are always on-hand to create a design that suits your taste perfectly. Your design ideas are hugely important to our designers who do their best to tailor all our bathroom solutions to your exact specifications.
CREATING YOUR UNIQUE BATHROOM
Nowadays, more homeowners are choosing to transform their bathroom into a wet room as this is a modern and advantageous way to increase the value of your property. Fortunately, our professional team are on-hand to create your own unique wet room that also boosts your property's appeal.